Costa del Churros, Isabella May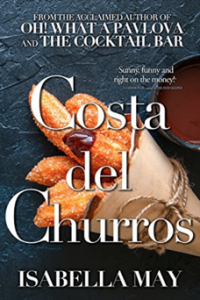 A well written book in a sunny, feel-good setting. I enjoyed the ex pat view of life in southern Spain told through the eyes of four women. It took me a little while to get into it and for the characters to grow on me but once they did, it was a thoroughly enjoyable read. The writing is fun and although serious at times, it is sprinkled throughout with humour. Each character has issues and although worlds apart, form unlikely bonds and deep friendships through a Flamenco class run by an interesting character who is able to see right through them.
All in all, a good holiday read, recommended.
The Tea Planter's Daughter, Janet MacLeod Trotter
A story of loss, betrayal and love unravels from the safety of Clarissa's home in India to the uncertain and rough living of Tyneside. Clarissa is the daughter of a tea planter who has not moved with the times and finds that her father's plantation is at risk from the bolshy Wesley who appears to be a ruthless businessman.
After the death of her father things go from bad to worse and she has to move to England to stay with relatives. She meets with challenges and drudgery once in Tyneside but she will not let her indomitable spirit be quashed in spite of the difficulties. Her poverty and the cruelty of her aunt become unbearable. Throughout all of this she is trying to care for her weaker, younger sister who is the only one left to care about. When the rough Wesley turns up again she is unsure what to make of it all. Will she ever find happiness? The first book in a family saga, it is well worth a read.