Murder is a Dirty Business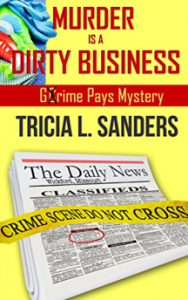 This one had me hooked from the word go.
Engaging lead character
Cece is an engaging middle-aged character who starts off as a downtrodden and somewhat pathetic woman but this all has to change when her husband walks out in the first few pages.
When her husband leaves her with a mountain of bills, Cece has to find a job. This alone is a first for her as she is used to enjoying the high life associated with her husband's position.
Cleaning up crime scenes wasn't what she had in mind but the money is good and she needs it.
A murder takes place and she is drawn into the investigation through the victim's relationship with her daughter and her friends. Chaos surrounds her life and she has to fend of her controlling mother-in-law while dealing with unpaid bills, a stroppy daughter and an attractive detective.
All elements of a cozy
The book has everything that is needed in cozy – stroppy teenager, menopausal women, evil mother-in-law, hunky detective, friendship, humour and most of all – a good plot.
You will not be disappointed if you read this one.
I will definitely look out for the next in the series. Tricia writes with style and humour. If you love a cozy mystery then buy this book.
Best Murder in Show by Debbie Young
This is the first book in a cozy mystery series by author, Debbie Young. I found the story of the young Sophie Sayers who inherits a cottage in a country village absorbing and entertaining. Sophie arrived nursing a semi-broken heart after discovering that the boyfriend she had been following around Europe was not going to chase her to England!
There are some interesting village characters to get to know and each has their own charm. There is also the inevitable murder and the whodunnit aspects of the plot that unravel along the way.
Is Sophie going to fall for another bad character or will this one turn out to be different. No plot spoilers here so you will have to read the book to find out. The book centres around an annual summer show in the village which everyone will turn out to watch. On this occasion though they get more than they bargained for as one of the participants is found dead on a Float!
If you have ever wondered what it is like to live in an English country village, then this is the series for you. Not that there is a murderer in every village you understand!