It's okay to be different!
A story of hope….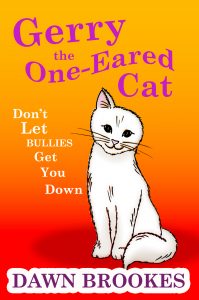 "This delightful story will capture the imagination of young readers while teaching them valuable lessons about diversity and acceptance"
"Writing books for children is a difficult skill to master; not many people can achieve the right mix of engaging story with simple language and sentence construction. The author has nailed it." Editorial Review
Gerry is born to be different. He has one ear.
This book follows his struggles as he finds that the world can be tough if you look different. Gerry longs to be accepted but finds himself lonely and isolated.
The other cats call him names. All Gerry wants is to be part of the crowd.
It takes time for him to learn how to overcome bullying. Help comes from an unlikely source.
This entertaining and engaging story addresses issues of bullying diversity and acceptance.
[wp_cart_button name="Gerry the One-Eared Cat" price="5.99″]