Sumptuous Cozy Mysteries set on board a fictional cruise ship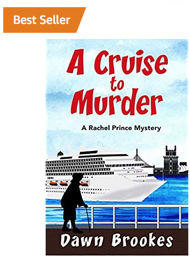 If you enjoy a good, clean murder mystery…..
…..join Rachel Prince, our new female sleuth, aboard the fictional Coral Queen and prepare yourself for a cruise to remember!
Rachel is twenty-five years old, and appears to have everything. She is beautiful, bright and has recently qualified as a police woman. So why is she so sad?
…..Her fiancé dumping her for another woman, might explain it!
Now what?
She needs rest and relaxation. Her best friend Sarah is a nurse on board a cruise ship, and offers the solution. Surely a Mediterranean cruise will help?
Well it couldn't hurt….
Or could it?
When Rachel befriends an elderly woman in her eighties, the titled, Lady Marjorie Snellthorpe appears concerned about something. Danger and menace seem to be closing in on her…..
Meanwhile, Rachel finds herself falling under the spell of the charming and attractive Carlos. Who is he and why is he so secretive? What could he be up to?
One of the passengers meets with a tragic accident while onshore with Lady Snellthorpe, and the tension builds. With danger threatening at every turn, Rachel needs to get to the bottom of this mystery before someone else is killed. She is putting herself in danger. Could she be the next victim?
This cozy/thriller has suspense and intrigue. A good, clean murder mystery with lots of red herrings.
You don't have to like cruising to enjoy this book but if you do you might get a double dollop of pleasure.
"A great debut novel by an emerging talent."
What readers are saying about A CRUISE TO MURDER
Can't wait for the next book
It's the kind of book you keep turning the pages
I was totally hooked from the first page
Absolutely brilliant! Liz
A perfect vacation read – like a Mary Higgins Clark book
A well researched, well written, very entertaining read
It would make a great tv series or film
The story kept me guessing Brigitta
Brilliant! Loved the medical insights on a cruise ship too.
Best book I've read in a long time!
Had to keep reading to see who the killer was.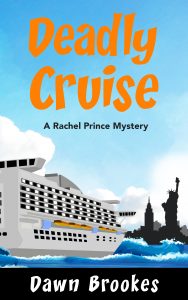 "Another intriguing story for cosy mystery lovers in Book 2 of the Rachel Prince Mysteries"
SeriesRachel returns to cruising after giving evidence in a difficult trial. She also wants to reevaluate her future after receiving threats from the man she helped put away.
Taking Queen Cruises up on their offer of a free luxury cruise aboard the Coral Queen, she opts for a sailing to New York.
Rachel's best friend and cruise nurse, Sarah is also returning to the ship to start a new nine-month contract, meaning Rachel will have a friend on board.
Almost immediately, Rachel meets a cruise tour leader who invites her to join him and his Russian tour group for some of their planned activities during the sea days.
A mystery develops when a Russian crew member is found dead in his cabin and another one goes missing. Added to this, Rachel's eagle eye spots some curious goings on among the Russian tour group.
Sarah has problems of her own as conflict develops in the medical team when a new nurse is brought in at short notice.
Rachel can't resist doing a bit of snooping, but will she get to the bottom of a mysterious death and find out what's happened to the missing crewman before they reach New York?
Killer Cruise (Book 3)
The latest Rachel Prince mystery by Dawn Brookes
Crew aboard the fictional Coral Queen find themselves stretched to the limit by the antics of a Queen tribute act, a troublesome stag party and a group of excitable female cheerleaders.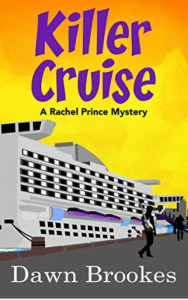 PC Rachel Prince, cruise ship sleuth is wondering if she will ever enjoy a peaceful voyage after a man dies under suspicious circumstances.
Upon agreeing to accompany Lady Marjorie Snellthorpe on a cruise around the Baltics, the two women find themselves surrounded by an array of suspicious characters with ample motive for killing the unpopular victim. The man's death is suspicious according to the chief of security, who wavers between involving Rachel in the investigation and keeping her away from it.
Sarah, Rachel's best friend and cruise ship nurse is keen to keep her out of harms way, but it's a case of the irresistible force meets the immovable object when there's a mystery to be solved. Rachel is spurred on by the incorrigible Marjorie who is keen to interfere and test her own sleuthing skills.
Chief Waverley and Sarah are fighting a losing battle, and become more and more exasperated by Rachel's involvement, both having problems of their own.
As the dead man appeared to have more enemies than friends, the mystery tests Rachel to the limit. She finds herself in danger as she tries to keep Lady Marjorie safe while solving the crime.
Join the crew and passengers aboard the Coral Queen for another exciting adventure at sea!