A Rachel Prince Mystery Book 1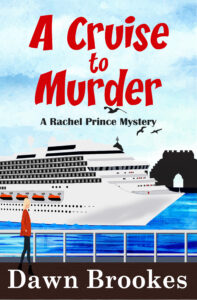 A Cruise to Murder is described by one reviewer as an 'awesome debut'. The setting is obvious from the title, aboard the amazing fictional cruise ship, Coral Queen.
The first-in-series follows Rachel Prince, a newly qualified police constable. Rachel is nursing a broken heart after being ditched by her fiancé. Her best friend, Sarah works as a nurse on a cruise ship and invites Rachel to take a cruise to aid her recovery.
Rachel befriends a troubled elderly widow, Lady Marjorie Snellthorpe and soon finds herself embroiled in a murder mystery. Events around her unfold after a passenger meets with a tragic accident. Who is the handsome but mysterious man and what is he up to?
This book was launched at the Oakwood Book Festival on 12th May 2018 and within hours the author received this email from a lady who bought a signed copy.
"I got home about 1.30 …and after lunch started reading A Cruise to Murder……I was completely absorbed for the next 4hours until I had finished it. Thank you for a great story, every page took me on the cruise and I remember almost every step of the corridors, decks, lifts and trips that she went on.
The plot was gripping and tense."

Where to Buy
Order from bookstores with ISBN: 978-1999857530
Goodreads reviews for A Cruise to Murder