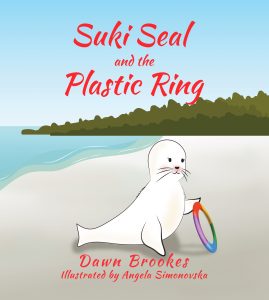 Suki, a young seal thinks it's her lucky day when she stumbles across a plastic ring left on the beach…
What begins as a game, turns out to be anything but, when the ring attaches itself around her neck. Join Suki and her friend Billy in their struggle after finding plastic waste on the beach!
Suki's best friend, Billy does everything he can to try to remove the ring but it just won't budge.
Will Suki survive as the ring grows ever tighter around her neck?
From the author of Danny the Caterpillar and other children's picture books, this book carries a simple message: 'Take your rubbish home.'

The story not only highlights plastic pollution as a problem, but also contains a message that teaches children how we can help prevent plastic pollution in the oceans. With the world drowning in plastic, it carries a clear message about the damage and suffering one simple plastic ring can do to our wonderful marine life.
This brilliant picture book, illustrated by Angela Simonovska, is perfect for readers aged 3-6 who love nature and want to help the environment. It also highlights the incredible work carried out by seal sanctuaries around the United Kingdom.