How to check blood sugar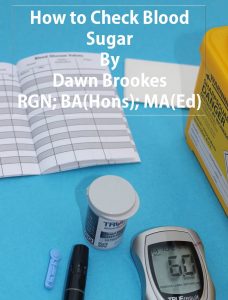 This short and easy to read book, guides you through the process of checking your blood sugar levels. Many people with diabetes are asked to monitor their blood sugar levels and if the tests are performed incorrectly they can end up feeling very stressed and sometimes with the wrong treatment.
If you have been looking for a simple to understand guide on how to monitor your blood glucose/sugar levels then this is for you. The book provides you with all the principle information that you will need to carry out a blood sugar test using any device. It will help you to understand how to perform the test correctly so that you do not get false readings and will provide a permanent point of reference. You will still need to familiarise yourself with any device that you are using but the basic principles will apply.
The author has worked in the nursing profession for the best part of thirty-nine years and has helped educate hundreds of people to use blood glucose monitors over that time. The devices may change but the general principles of hygiene and correct sampling techniques remain the same.
What people say
Helpful. Explains clearly and precisely what has to be done. Very good. I would recommend this for any beginner's in order to understand what it entails.
[amazon_link asins='1520298501,B009FLI3IG,B009OGKQSC,B0068JAJFS,B017K0BJKM,B00FVUMKB6,B01LYKZ4ZU' template='ProductGrid' store='dawnbrookespublishing-21′ marketplace='UK' link_id='0bec8686-c6b5-11e7-a03c-45cda2439aab']