It was supposed to be a relaxing Highland tour. But an untimely death prompts our octogenarian sleuth, and her pensioner pals to investigate.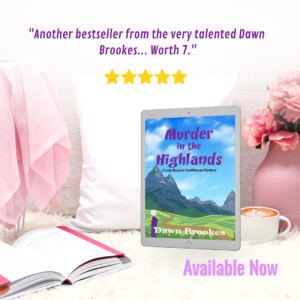 A few nights next to Loch Ness offer more mystery than the holidaymakers have bargained for. It's not just Nessie lurking around the eerie shores of the great loch.
Lady Marjorie Snellthorpe is frequently at odds with her brash cousin-in-law, Edna Parkinton, but remains determined to track down a killer.
Meanwhile, Horace Tyler and Frederick Mackworth's eyes are turned by an attractive newcomer who threatens to divide the foursome. Murder in the Highlands is the rollicking second book in the Lady Marjorie Snellthorpe Mysteries.
Available in Kindle, KU, Paperback, Hardback, Large Print, Audiobook