Friday June 18th 1982
Woke at 12:30pm after a glorious 12 hours sleep. This apartment is gorgeous, we're certainly spoilt with the air conditioning. We've decided to stay here until Tuesday and then we'll go to K.L. (Kuala Lumpar). I've just had to throw my jacket down the rubbish chute as it was weighing me down – sob, sob! It's nice not having to worry about leaving our belongings while we go out.
Had a fairly busy afternoon. Got a but into town and went to a market place called Change Alley. An incredible place where traders pounce on you as soon as you walk in; offering anything and everything for sale. We met two New Zealanders who gave us their map as they're going to England in 5 days time.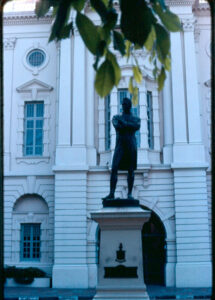 We visited the famous Raffles Hotel. My uncle was stationed in Singapore during the war and asked me to visit the place as he had fond memories.
Singapore is beautiful, it's so clean… there's a S$500 fine for dropping litter, even cigarette butts. They also have a law against jaywalking with a S$10 fine. You have to use pedestrian crossings all the way.
We walked along Queen Elizabeth Walk and found some beautiful gardens there. We saw the Merlion which pours water from its mouth into the river.
Arrived back at the apartment at 7:30pm. Suzie was home. She's really sweet and is going to show us around Singapore tomorrow. She says we can use the car! It's incredible how trusting she is. We took advantage of the onsite open air swimming pool at about 8:30pm; fantastic and really cool. I came out feeling thoroughly refreshed. To top the evening we watched a video of a film called Roller Coaster. J phoned Linda Ho (a nurse we had met at the London Chest Hospital). Apparently she was at the airport to meet us last night but obviously we missed her. We've arranged to meet her on Sunday afternoon.